About Us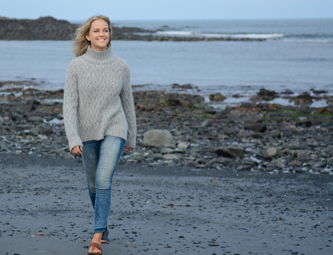 • RedMaple is a Maine seacoast based design company continually inspired by the natural beauty & outdoor lifestyle enjoyed in our region. Our natural fiber focus provides eco-friendly comfort for the whole family. We're a small, independent company with innovative specialty products not found in department stores. Sales & warehousing were relocated to Tennessee in 2022.
• Our designs focus on alpaca - known for thousands of years as a noble fiber. We've been involved in alpaca product design and the U.S. alpaca breeding industry for over 25 years, so we have extensive knowledge about using this amazing resource.
• Alpaca fiber is naturally warm, breathable, durable, luxuriously soft, and it grows in over 20 natural colors. It is highly resilient for wrinkle-free packing.
• We use 100% baby alpaca (a premium grade) as well as blends of alpaca with cotton, wool, bamboo, and other luxurious fibers.
• The majority of our designs are commercially produced in Peru, world capital of alpaca fiber production, where our founder has worked for over 20 years. Many items are handwoven, handknitted, or handstitched by our network of artisans' cooperatives. We also produce designs in the U.S. as resources and manufacturing opportunities are found.
• Our goal for RedMaple is simple: To provide unique, high quality, well-crafted designs that never go out of style, along with outstanding customer service. We enjoy wearing RedMaple products as much as we do creating and selling them!
To place an order, inquire about a shipment or return, or locate a sales rep, contact us:
RedMaple Sportswear Co. LLC
Distribution Center:
17494B State Highway 58 N.
Decatur, TN 37322
Toll Free Phone: 888-748-0022
Customer Service Email:
mendy@redmaplesportswear.com
HQ Email:
david@redmaplesportswear.com